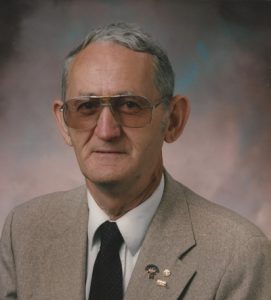 On April 11, 2019; Harry Cheney passed away. He was Grand Knight of Council 562 from 1996 to 1998. For several years he was manager of the Olympic Park Swim Club, and was a fixture at pool after his retirement.
Harry was predeceased by his wife Michele and two brothers. He is survived by his daughters, Amy Cheney, Tricia Cheney, Nikki Aikens and husband Tim; 8 Grandchildren, and 1 great grandchild, as well as one brother Thomas J. Cheney and wife Peg.
In lieu of flowers, memorials may be made to Knights of Columbus Kovar, c/o Jeffrey Befumo, Treasurer, 16933 Four Seasons Drive, Dumfries, Virginia 22025 in his memory.
Funeral Mass will be held Saturday April 27, 2019 at 2:00pm in Our Lady of Nazareth Catholic Church. Internment will be private. Family will receive friends Friday April 26, 2019 from 5:00-8:00pm at Simpson Funeral Home.